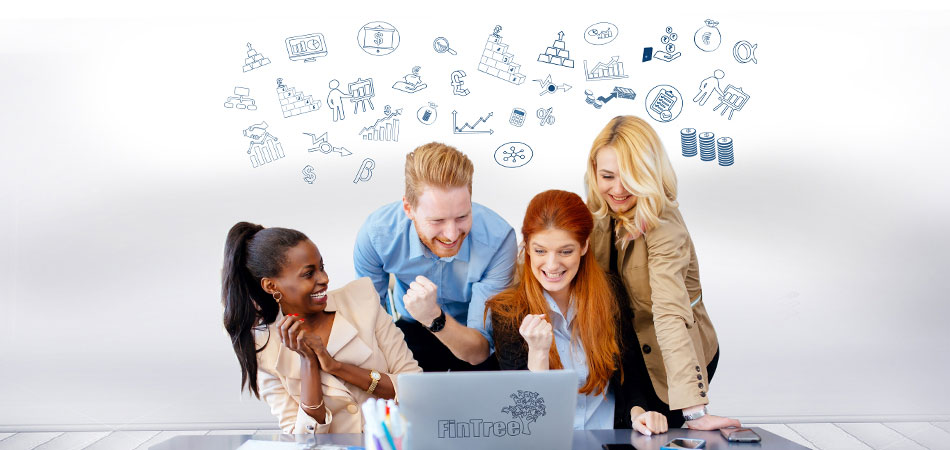 What is Financial Modelling?
Financial Modelling involves modelling Financial Data for Decision Making.
Financial Modelling Skills are applied to variety of scenarios like Equity Research, Mergers and Acquisition, Project Finance etc.
Financial Modelling Certification at FinTree equips candidates to develop a model from scratch without using ready-made templates.
What are the Pre-requisites to Learn Financial Modelling?
While building Financial Model, you're essentially applying Valuation Principles in a real life scenario.
Therefore , we recommend candidates to develop good understanding of Equity Valuation Methodology before taking up the course.
Those candidate who do not have any previous background and mandatory required to go through FinTree's "Level Zero"TM program (at no cost) before taking up Financial Modelling Certification Course.
What is duration of the Course?
Typically, one batch duration is roughly three months. The Certification is provide by FinTree after the completion of the batch, post which, candidates can apply to FinTree Placement Process.
However, we operate on a club Membership model, wherein, in the same fees, candidate are allowed to (and encourages to) attend three more (1+3) subsequent batches. Every batch we pick up models from different sectors and that provides more deeper understanding to the participants.
What is the Course Content?
We have dividend Financial Modelling Course into Four Parts:

Part I : Advance Excel Training
In these sessions, we will start with the zero knowledge assumption and slowly build expertise up to Advance excel function like Solver, Regression Function and Goal Seek etc.
Part II : Building Financial Model Infrastructure
Like most the other program offered in India, we do not start with pre-designed templates. We will start this session with a blank template and hard code data (Financial Statements) into Excel File. Also, in this Part, we do a walk through of Industry Research reports Macro Economic Reports from various sources. We are (most likely ) the only Training Provider to offer hand on experience on Databases like Bloomberg and Reuters.
Part III : Forecasting
In this part, we will start identifying Revenue Drivers, Cost Drivers and start Forecasting Data. For most people, this part of the program is the Real Juice. We will also learn to prepare Debt Schedule, Working Capital Schedule, Capex Schedule and Integrate all the Schedules and Statements with each other.
Part IV : Valuation and Report Writing
In this section, we will perform valuation of stock under consideration using DCF, Comparable and Asset-Based Approaches. The Program concludes with writing a Research Report. Typically, we invite at least 2 Guest Faculty to Conduct Sessions, one from Buy side and other from Sell Side.
Is there any opportunity to work on live projects?
FinTree has strong classifications with many Equity Research houses in India (mostly through it's alumni base).
Many candidate are provided internship/jobs right after the program completion. Also, since we provide Financial Modelling Services to clients all around the world (though mostly from Middle East and Africa), many time participants also get an opportunity to work on Live projects.
Where will these classes be conducted?
Financial Modelling Course is conducted only at the Pune Branch currently. However, participants from other cities and countries can always participate in Online Pre-recorded Video Lecture program.
Can this course be taken online?
You can also watch sample video tutorials here
The classroom training is currently conducted in Pune, India only. For more information about the classroom training, contact us on +918888077722( 9AM-9PM IST ) or admin@fintreeindia.com.
The online course can be purchased by clicking on the link below:
Buy the FM online course